REDUCE TURNOUT GEAR MAINTENANCE AND REPAIR COSTS
During the INNOTEX ENERGY™'s concept period, more than 75 points were slated to be addressed. From pockets, to trim, increased comfort and fit, a myriad of issues jostled to be repaired or reinvented.
On that list: Seams. While seams may seem a minor issue, they play an important role in comfort and durability.
Spending time inspecting used turnout gear sent in for repair at the INNOTEX® 1851 Clean and Repair Centre made it clear improvement was needed. Managing repairs can be costly for fire departments. Upkeep expenses clearly needed to be lowered, letting departments save their budget for more important purchases.
Our challenge was to re-engineer seams in order to reduce wear and tear, which would in turn help reduce maintenance and repair costs.
INNOTEX ENERGY™ seams are strategically placed to increase durability and comfort.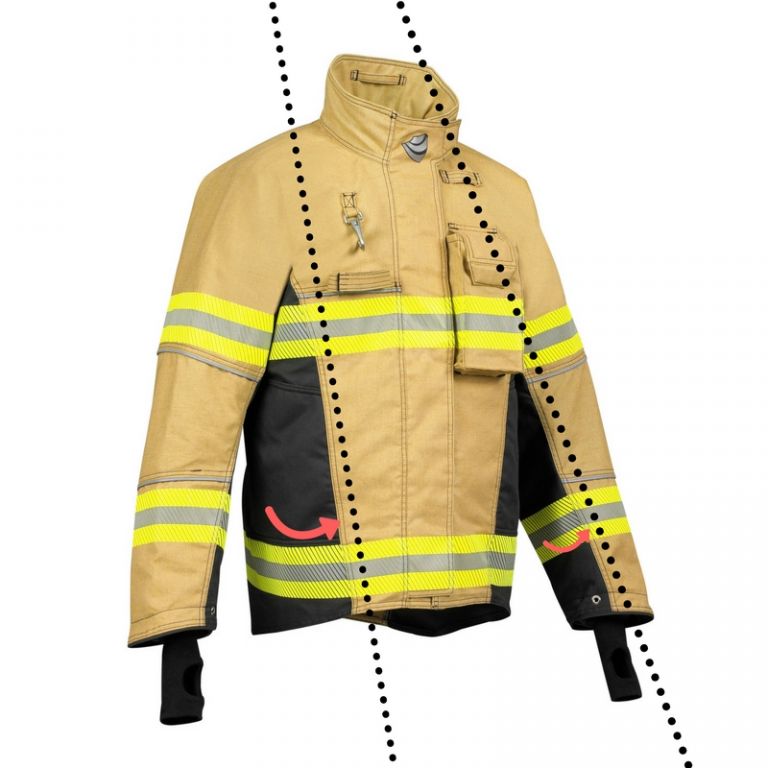 The shoulder seam is a good example of this, because there simply isn't one. While most traditional coats have a seam along the ridge of the shoulder and circling under the arm, the INNOTEX ENERGY™ No-Seam™ shoulder is, as its name suggests, seamless throughout all three layers.
There are no pressure points for the SCBA straps to rub against, nothing to abrade against and eventually wear out. Better yet, it helps with mobility. It also eliminates potential leaks from moisture barrier seam sealing tape failure.
The body and arm panels follow a similar design. While they do have seams, they are offset from the traditional locations. These new seam patterns help eliminate the wear and tear you would normally see on turnout gear.
The most visible change to the coat however is the pockets. Profiled pockets, while not conventional, do serve a purpose. Placing the pocket inside the coat eliminates most normal wear and tear and generally frees up bulk from the front of the coat. Having the profiled pockets also reduces the risk of getting snagged in tight spaces.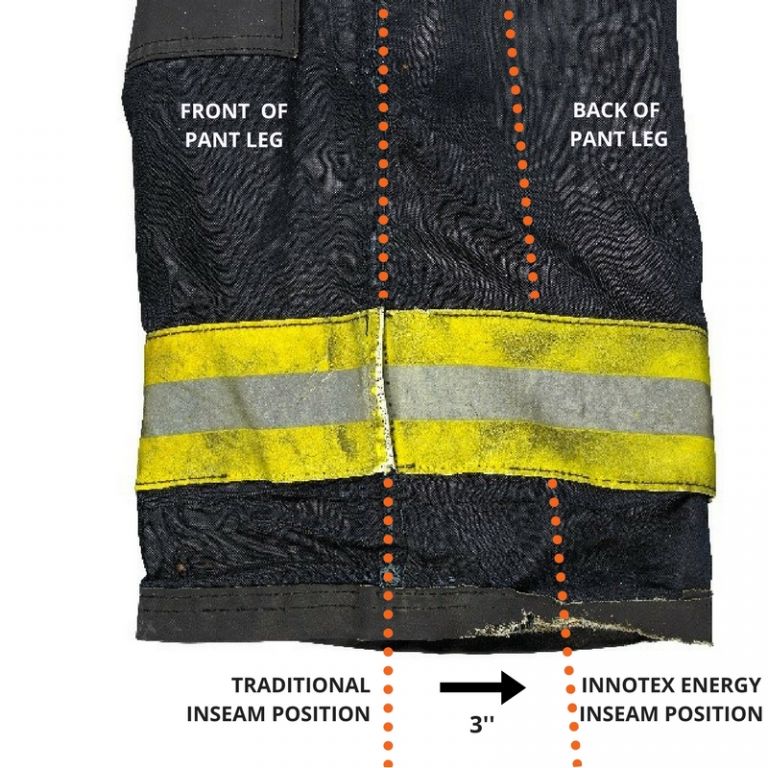 One of the most frequently repaired seams is the inseam. Look familiar?
The pant leg seam is generally placed midway between the front and back of the leg. The left and right pant leg seams line up and rub one against the other, wearing down the folded material, trim and stitching.
By rotating the inside seam slightly towards the back of the pant leg, the unneeded abrasion is avoided. We also displaced the location of the snaps at the bottom on the leg, rotating them to line up with our new seam line.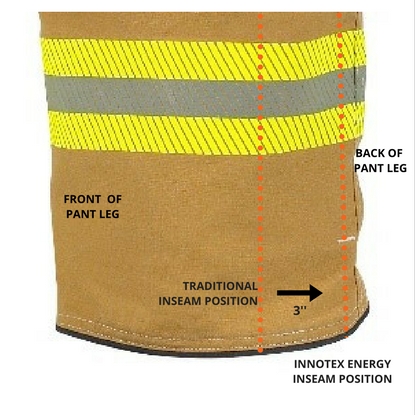 Pant leg durability achieved.
Based on estimates, a 40-60% savings on repairs can be achieved versus traditional gear.
Details, but nonetheless important ones for fire departments seeking durable and comfortable turnout gear. Fire departments can achieve major savings by not having to repair gear over and over, year after year. This just might be your least expensive gear ever purchase by far.